Founded Ajman Police in early 1967, under the name of the leadership of the police and public security, where His Highness the late Sheikh Rashid Bin Humaid Al Nuaimi, Ruler of Ajman then ordered the establishment of the police, and was appointed by HH Sheikh Abdullah Bin Rashid Al Nuaimi, Commander of His Highness Sheikh Saeed bin Rashid Al Nuaimi, his assistant .

Since the establishment of the police started exercising the functions assigned to them in maintaining security within the emirate, and those exceeding the tasks was to guard and traffic regulation, and the number of individuals and officers, not to exceed twenty, then the number has increased gradually depending on the increase and the multiplicity of functions of the police.

The police and security apparatus in Ajman, did not lag behind the progress and development achieved by the police and security services with the beginning of the State of the Union, which merged together to the Ministry of the Interior, This is a new stage and a real beginning to build a modern police. Bakanonuahd where he began working for the police and security, and police were able to achieve significant progress and development, thanks to the attention and care on the part of His Highness the President and his brothers, Their Highnesses Rulers of the Emirates.
Logo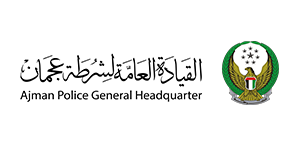 Email
info@ajmanpolice.ae
Google Map
القيادة العامة لشرطة عجمان